The Ford Family Foundation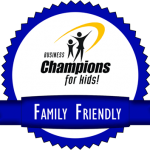 Headquarters
1600 NW Stewart Parkway
Roseburg, OR 97471-1957
Local: (541) 957-5574
Email: [email protected]
The Ford Family Foundation Careers Page
Scholarship Office
44 Club Road, Suite 100
Eugene, OR 97401
Toll Free: (877) 864-2872
Local: (541) 485-6211
Company Details
Industry: Philanthropy 
Number of Employees: 43
Family Friendly Work Practices
Telecommuting/remote work option
Voluntary part-time work
Dependent care flex spending account
Dependent care resource information 
Wellness support
Family-focused activities
Discounts for family-friendly activities
Career development and opportunities for advancement
Supportive leadership
Education assistance
About The Ford Family Foundation
The Ford Family Foundation is a private, non-profit foundation with headquarters in Roseburg, Oregon. Roseburg lies in southern Oregon where the North Umpqua and the South Umpqua rivers join — timber country.
The Foundation makes grants to public charities and agencies predominantly benefiting communities in rural Oregon and Siskiyou County, Calif. Their heritage comes from these communities and the men and women who created them.
In addition, the Foundation designs, manages and funds programs that aim to improve the wellbeing of children, families and communities in our region, including a scholarship program for students attending college or university. The Foundation's mission is "successful citizens and vital rural communities," and they invest in both people and places to achieve that mission.
Core Values
The founders of The Ford Family Foundation, Kenneth Ford and Hallie Ford, built the wealth that endowed the foundation from the riches of the land and their hard work. The organization's values are the values that guided them throughout their lives.
Integrity: Promoting and acknowledging principled behavior
Stewardship: Responsibility to give back and accountability for resources and results
Respect: Valuing all individuals
Independence: Encouraging self-reliance and initiative
Community: Working together for positive change
Culture
The Ford Family Foundation's leadership team is committed to the Triumvirate: taking care of yourself first, your family and loved ones second, and work comes last and is the most flexible.
The Ford Family Foundation is a financial sponsor of the Business Champions for Kids program.